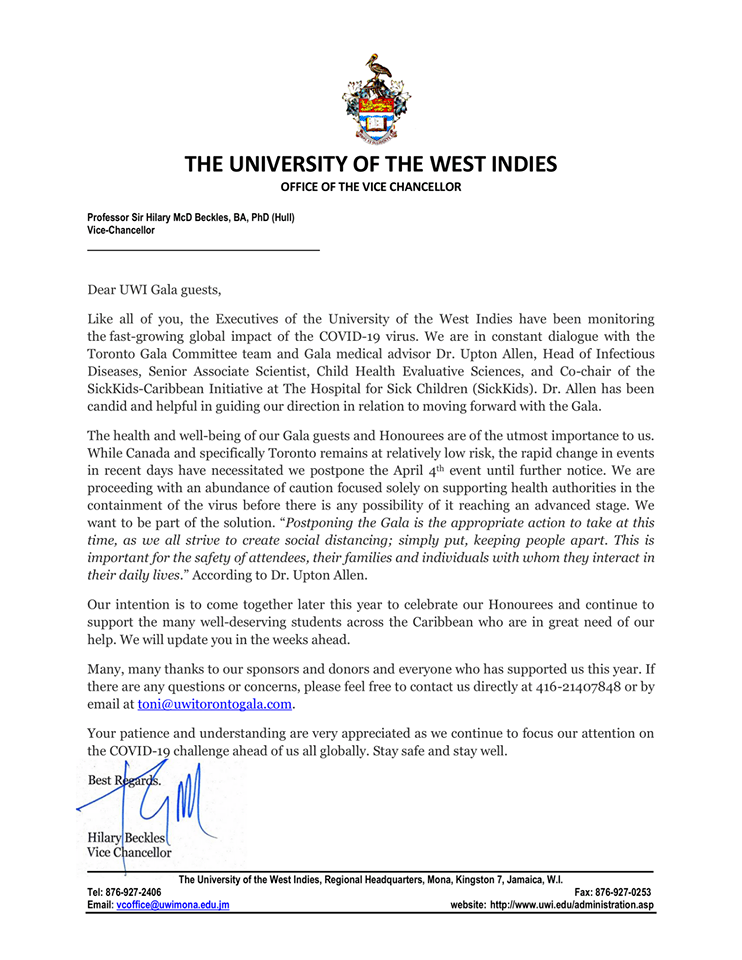 UWI TORONTO GALA 2020 - COVID-19 VIRUS UPDATE
Like all of you, the Executives of the University of the West Indies have been monitoring the fast-growing global impact of the COVID-19 virus. We are in constant dialogue with the Toronto Gala Committee team and Gala medical advisor Dr. Upton Allen, Head of Infectious Diseases, Senior Associate Scientist, Child Health Evaluative Sciences, and Co-chair of the SickKids-Caribbean Initiative at The Hospital for Sick Children (SickKids). Dr. Allen has been candid and helpful in guiding our direction in relation to moving forward with the Gala.
The health and well-being of our Gala guests and Honourees are of the utmost importance to us. While Canada and specifically Toronto remains at relatively low risk, the rapid change in events in recent days have necessitated we postpone the April 4th event until further notice. We are proceeding with an abundance of caution focused solely on supporting health authorities in the containment of the virus before there is any possibility of it reaching an advanced stage. We want to be part of the solution. "Postponing the Gala is the appropriate action to take at this time, as we all strive to create social distancing; simply put, keeping people apart. This is important for the safety of attendees, their families and individuals with whom they interact in their daily lives." According to Dr. Upton Allen.
Our intention is to come together later this year to celebrate our Honourees and continue to support the many well-deserving students across the Caribbean who are in great need of our help. We will update you in the weeks ahead.
Many, many thanks to our sponsors and donors and everyone who has supported us this year. If there are any questions or concerns, please feel free to contact us directly at 416-21407848 or by email at toni@uwitorontogala.com.
Your patience and understanding are very appreciated as we continue to focus our attention on the COVID-19 challenge ahead of us all globally. Stay safe and stay well.
Best Regards,
Hilary Beckles
Vice-Chancellor