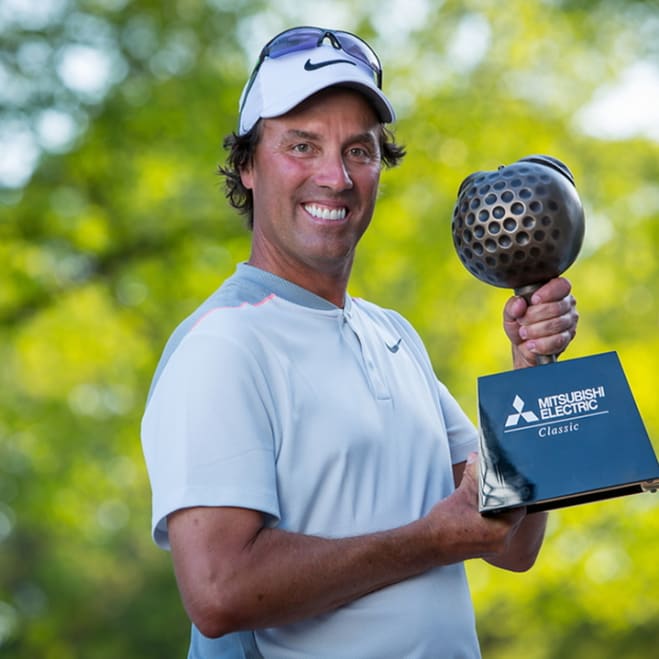 Mr. Stephen Ames
Canadian Stephen Ames has enjoyed a decorated professional career. He is
a four-time winner on the PGA TOUR, highlighted by a dominating victory
at the 2006 Players Championship where he won by a record-tying six stroke
margin. Stephen is the first touring professional from his native country,
Trinidad and Tobago, to compete on the PGA TOUR. In addition to his
Players Championship victory in 2006, Stephen won the 2004 Cialis Western
Open and is a two-time winner of the Children's Miracle Network Classic
(2007, 2009).
Off the course, Stephen is committed to children and developing junior golf in both
Canada and Trinidad through the Stephen Ames Foundation. Founded in 2005,
the Stephen Ames Foundation provides funding for junior golf programs and initiatives focused on the well-being of
children. Over the years, the Foundation's mandate has been expanded to include children's charities, hospitals, and
hospital foundations in Canada. Annually, Stephen also hosts the CJGA Stephen Ames Cup, a cultural exchange and
Ryder Cup style tournament featuring a team of Canadian junior players versus Team Trinidad and Tobago.
In 2014, Stephen received the highest honour in Canadian golf when he was welcomed into the Canadian Golf Hall
of Fame as its 74th inductee. He was recognized not only for his outstanding play and professional career, but for his
unwavering commitment to supporting and furthering the game of golf. Ames has also been honoured for his excellence
by the Trinidad and Tobago First Citizens Sports Foundation as the recipient of the Sportsman of the Year Award (2006,
2007), and also by the Republic of Trinidad and Tobago when in 2004 he was awarded the Chaconia Medal for long and
meritorious service to Trinidad and Tobago tending to promote the national welfare or strengthen the community spirit.
Stephen is currently competing on the Champions Tour, where this past season he amassed seven top-10 finishes,
including an impressive T6 finish at the season's final event, the Charles Schwab Cup Championship. He is the proud
father of two sons, Justin and Ryan, and lives in Vancouver, British Columbia.