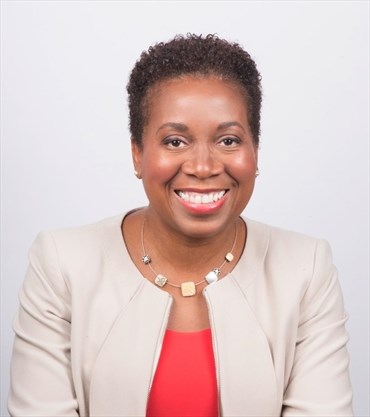 Dr. Juliet Daniel
Dr. Juliet Daniel is a Professor and Cancer Biologist in the Department of Biology at McMaster University. She received her B.Sc. from Queen's University and her Ph.D. from the University of British Columbia. Dr. Daniel trained as a Postdoctoral Fellow at St. Jude Children's Research Hospital and Vanderbilt University in Tennessee before joining McMaster in 1999 as an Assistant Professor.
Dr. Daniel's research expertise is cell-cell adhesion and signaling through transcription factors in the context of cancer development and progression. Her research led to her discovery and naming of a new gene "Kaiso", coined after the popular Caribbean music "calypso". Dr. Daniel's research team is currently focused on the aggressive and difficult to treat triple negative breast cancers (TNBC) that are most prevalent in Hispanic women and young women of African ancestry despite these groups having a lower incidence and lifetime risk of breast cancer compared to other ethnicities. Since socio- economic status does not fully explain the racial disparity in TNBC prevalence and mortality, Dr. Daniel seeks to identify unique DNA mutations or markers on cells that may explain this racial disparity and which can be developed for diagnostic tests or therapeutics for women diagnosed with TNBC worldwide. Dr. Daniel also partners with The Olive Branch of Hope Cancer Support Service in Toronto to organize and host "Think Beyond 'Love Pink' Breast Cancer Awareness" and empowerment workshops for women of African Ancestry.
Dr. Daniel has published in several high caliber scientific journals and her research has been funded by national (CIHR, NSERC, CBCF), and international agencies (US CDMRP Breast Cancer IDEA Awards). Her extraordinary scientific achievements led to numerous prestigious awards including the Ontario Premier's Research Excellence Award, the Hamilton Black History Month John C. Holland Professional Achievement Award, the African Canadian Achievement Award of Excellence in Science, the Barbados National Honor Gold Crown of Merit, a Hamilton YWCA Women of Distinction Award, a BBPA Harry Jerome Award and more recently a 100 Accomplished Black Canadian (ABC) Women Award. She has also been featured in "Millenium Minds: 100 Black Canadians".
Over the years, Dr. Daniel has volunteered for several non-profit and charitable organizations including The Canadian Multicultural LEAD Organization, The ACCPI Scholarships Committee, and the National Let's Talk Science Program. She is a committed mentor and role model for numerous students and youth of African-Caribbean ancestry and she is also a strong advocate for women and under-represented minorities in science and engineering.