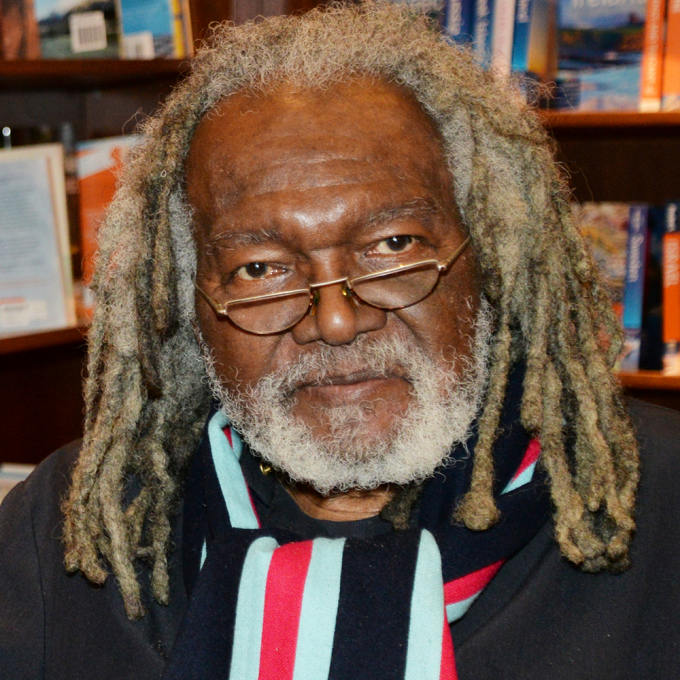 Mr. Austin Clarke
Austin Chesterfield Clarke was born in Barbados in 1934 and immigrated to Canada to attend the University of Toronto in 1955. He quickly became a leader of the civil rights movement in Toronto. In his work from 1965-73 as a journalist and broadcaster covering social issues, he produced documentaries and interviews with artists and leaders of the civil rights movement. From 1968-74 Clarke served as visiting professor at Yale, Brandeis, Williams, Wellesley, Duke, and the universities of Texas and Indiana. He assisted in setting up Black Studies programs at Yale and Harvard. In 1974 Clarke became cultural attaché of the Barbadian Embassy in Washington, and from 1975-77 he served as general manager of the Caribbean Broadcasting Corporation in Barbados. From 1973-6 he served as advisor to the Prime Minister of Barbados and from 1989-94 he was a member of the Immigration and Refugee Board. Austin Clarke has been Writer-in-Residence at Massey College, University of Toronto, and at the Toronto Public Library.
Culminating with the international success of The Polished Hoe in 2002, Austin Clarke has published ten novels, six short-story collections, and three memoirs in the United States, England, Canada, Australia, and Holland since 1964. Storm of Fortune, the second novel in his Toronto Trilogy about the lives of Barbadian immigrants, was shortlisted for the Governor General's Award in 1973. The Origin of Waves won the Rogers Communications Writers' Development Trust Prize for Fiction in 1997. In 1999 his ninth novel, The Question, was shortlisted for the Governor General's Award. In 2003 he had a private audience with Queen Elizabeth in honour of his Commonwealth Prize for his tenth novel, The Polished Hoe, which in 2004 was also a finalist for the Zora Neale Hurston/Richard Wright Legacy Award.
In 1992 Austin Clarke was honored with a Toronto Arts Award for Lifetime Achievement in Literature. In 1997, Frontier College in Toronto also granted him a Lifetime Achievement Award. In 1998 he was invested with the Order of Canada, and since then he has received four honorary doctorates. In 1999 he received the Martin Luther King Junior Award for Excellence in Writing.