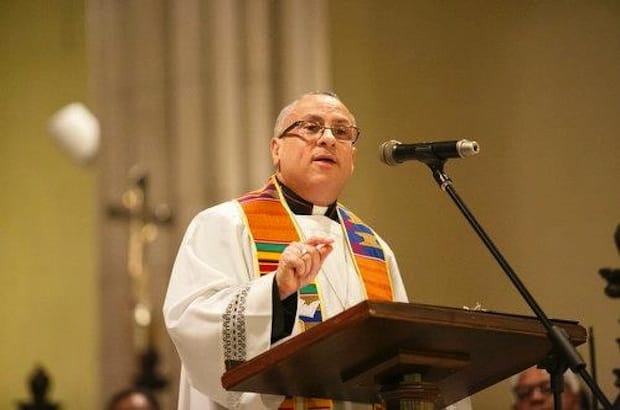 The Right Reverend Peter DeCourcy Fenty
Bishop of York Simcoe
The Right Reverend Peter DeCourcy Fenty M.Div. (Hons); B.A.; L.Th; Dip.Th.
Bishop Peter Fenty, a Barbadian, has been ordained for thirty-eight years, and was consecrated a Bishop on June 22, 2013 in St. James Cathedral Toronto. He was appointed the area bishop of York Simcoe. Peter is the first Black Bishop in the Anglican Church of Canada.
Bishop Fenty has a passion for pastoral ministry and served with distinction in five parishes in the Dioceses of Barbados, Montreal and Toronto. In 2003 he was appointed as the Executive Officer to the Bishop of Toronto, and Archdeacon of York until 2013. Peter is a graduate of Codrington College and the University of the West Indies, Barbados and Huron College of the University of Western Ontario. He holds a Diploma in Theological Studies, Licentiate of Theology, Bachelor of Arts in History, Sociology and Theology, and a Master of Divinity with honours.
Peter has always been involved in the communities in which he ministered and is a strong advocate for social justice, human rights and ecumenism. This is reflected in the many organizations, committees and boards on which he served. They include being chair of the Partners in Mission Committee and the Anti-Racism Implementation Group of the Anglican Church of Canada, the Diocese of Toronto's Social Justice and Advocacy Committee, the Diocese of Montreal's Social Outreach Committee, the No Longer Strangers Multicultural Committee and the Board of the Black Community Council of Quebec. Peter was also the deputy chair of the Barbados Community College Board of Management 1989-1992.
In his homeland Barbados, he served as Chaplain to the University of the West Indies (Cave Hill), the National Union of Public Workers, St. Gabriel's School and Honorary Chaplain to the Barbados Defense Force. He also did a short stint as a radio talk show host at two radio stations in Barbados.
Bishop Fenty was a member of the Afro-Anglican Co-coordinating Committee for the conference held in Toronto in 2005. He has been the recipient of many awards including the Pride of Barbados Award.
Bishop Fenty is supported in his ministry by his wife Angela Allman-Fenty who is an educator; their son Andre who holds a degree in Journalism and is married to Jacquelyn Norrish; and their daughter Peta-Anne who holds a degree in French and is also an educator. She is married to Mubarak Anashara.